Marketing, Branding and "Biz" Strategy for Performing Artists
I'm Kimberly Faye Greenberg, The Broadway Expert. As a fellow performer, Broadway Dresser, Creator, & Top "Biz" Coach, I know the process of identifying how to present & sell yourself as a performer! And, without the right marketing & branding it will be hard to get the kinds of roles & gigs you want, let alone a Rep! So, I have created these courses with actionable tips, tricks, tools & templates that you can take on your own time and even get help from me to put you on the path to stardom!🌟🌠
Enroll Now

A Little About Me and Why I am the Broadway Expert to Listen to . . .
🌟 Is one of the Top 10 Performing Arts Coaches in the World! (Ranked #7 on Google!)
🌟 Has been a Broadway Consultant to well over 200 students from beginners to established Broadway and TV/Film performers.
🌟 Was a Broadway wardrobe dresser on over 20 Broadway shows, including Something Rotten, Cinderella, Cabaret, and The Lion King.
🌟 Is the only actress to star in 2 Off-Broadway hits simultaneously — Danny and Sylvia: The Danny Kaye Musical, and the solo show, One Night with Fanny Brice.

🌟 Played Fanny Brice on Broadway in Speakeasy Dollhouse: Ziegfeld Midnight Frolic at the Liberty Theatre.
🌟 Kimberly has performed in Television/Film and across the US in national tours, Off-Broadway, Off-Off Broadway, regional theatres, cabarets, and cruise ships. She also regularly performs her critically acclaimed one-woman show "The Fabulous Fanny Brice" in regional theaters and performance spaces around the country.
Visit My Official Broadway Expert Website
If you aren't ready to work with me yet, sign up for my "Broadway Expert Network" email list instead, where I will send out helpful tips, videos and freebies straight to your inbox:

Sign-Up for my Exclusive "Broadway Expert Network" Email List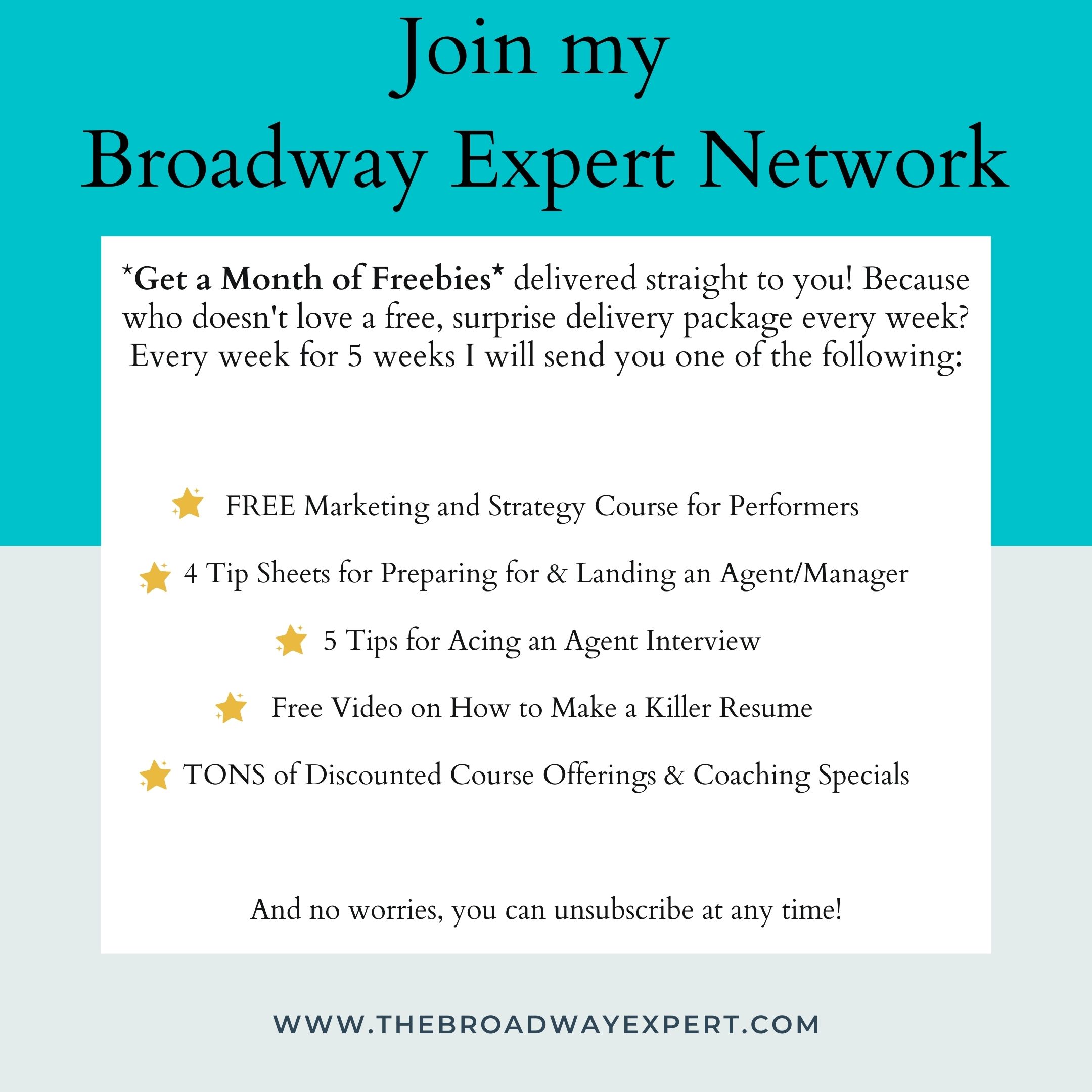 What Others Are Saying!